We need to do something to help the bee and insect population:
Futures Forum: Insects are in serious trouble
The campaign group Avaaz has been at the forefront of pushing for a ban on neonicotinoids:
Avaaz - Europe: Save the Bees
The UK is now behind the ban:
Bee happy: Michael Gove supports new EU ban on harmful pesticides
Futures Forum: Brexit: and the Environment Secretary upsetting farmers by supporting the EU's ban on 'bee-killing' neonicotinoids
And earlier today, the EU voted to carry this out:
EU votes to ban bee-harming pesticides | The Independent
EU member states to vote on total ban on neonics - Farmers Weekly
The BBC reports:
EU member states support near-total neonicotinoids ban
By Matt McGrath
Environment correspondent

8 hours ago
128 comments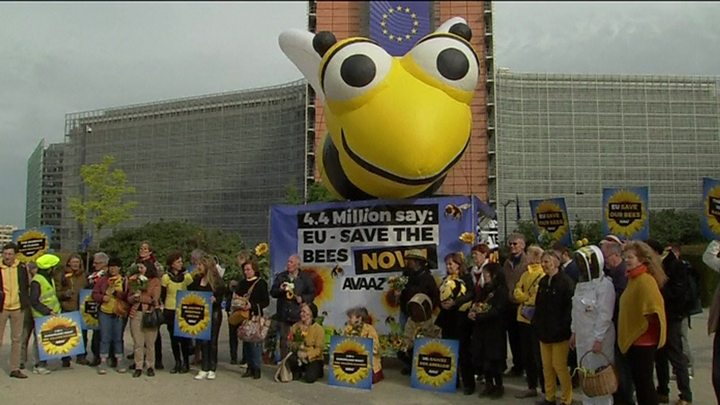 Campaigners in Brussels celebrate the new ban

Member states have voted in favour of an almost complete ban on the use of neonicotinoid insecticides across the EU. Scientific studies have long linked their use to the decline of honeybees, wild bees and other pollinators. The move represents a major extension of existing restrictions, in place since 2013.

Manufacturers and some farming groups have opposed the move, saying the science remains uncertain.

Neonicotinoids are the most widely used class of insecticides in the world, but concerns about their impact on bees have been reinforced by multiple research efforts, including so-called "real world" trial results published last year.

Change of heart

Back in 2013 the European Union opted for a partial ban on the use of the three chemicals in this class: Imidacloprid, clothianidin and thiamethoxam. The restrictions applied to crops including maize, wheat, barley, oats and oil seed rape. The newly agreed Commission regulation goes much further, meaning that almost all outdoor uses of the chemicals would be banned.

Voting on the proposal had been postponed a number of times as countries were split on the move. However, Friday's meeting saw a qualified majority vote in favour of the ban.

The action has been driven by a recent report from the European Food Safety Authority (Efsa), which found that neonicotinoids posed a threat to many species of bees, no matter where or how they are used in the outdoor environment.

"The Commission had proposed these measures months ago, on the basis of the scientific advice from the European Food Safety Authority," said EU Commissioner for Health and Food Safety, Vytenis Andriukaitis. "Bee health remains of paramount importance for me since it concerns biodiversity, food production and the environment."

Another key element that helped push the vote through was the UK's change of heart on the use of these insecticides. Environment Secretary Michael Gove announced last November that Britain would now support further restrictions.

"I think it has helped the dynamic," Franziska Achterberg from Greenpeace told BBC News. "It has helped sway Ireland definitely, and then lately, the Germans, the Austrians and the Dutch. I think the fact the UK had come around was a good signal for them as well, that they could not stay behind."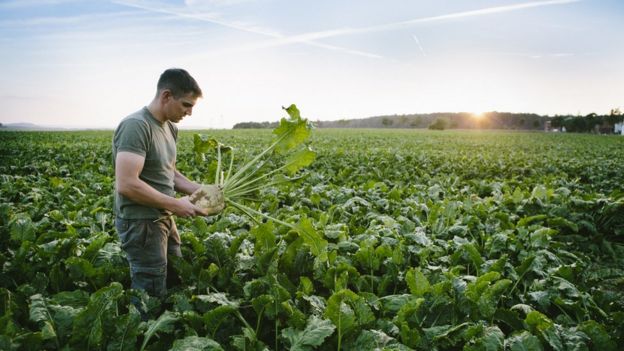 The new ban sees restrictions extended to crops like sugar beet

Growers will only be free to use neonicotinoids in greenhouses across the EU, despite some environmental groups having reservations about the chemicals leaching into water supplies. Other neonicotinoids, including thiacloprid and sulfoxaflor, will continue to be exempt from the ban.

Environmental campaigners have welcomed the ban. Some five million people around the world had signed petitions calling for an extension of restrictions.

"Banning these toxic pesticides is a beacon of hope for bees," said Antonia Staats, from Avaaz, "Finally, our governments are listening to their citizens, the scientific evidence and farmers who know that bees can't live with these chemicals and we can't live without bees."

No benefits for bees

Many farmers are unhappy about the increase in restrictions, saying they do not believe they are warranted on scientific grounds and that the existing partial ban has not delivered results.

"The Commission hasn't been able to find that these restrictions have delivered any measurable benefits for bees," said Chris Hartfield from the National Farmers' Union (NFU) in the UK. "That has been a big question for us, and if we can't be certain they can deliver measurable benefits why are we doing this?"

The new regulation will be adopted in the coming weeks and will be applicable by the end of the year. Some farmers believe it will have significant impacts on the types of crops grown across the Continent.

"The irony of the current restrictions is that it has led to the decline of oil seed rape being grown in the UK and that's reflected across the whole of Europe," Mr Hartfield said.
"We're not decreasing our consumption of that product; we are just importing it from outside Europe, where it is often treated with neonicotinoids. I would expect to see that continue."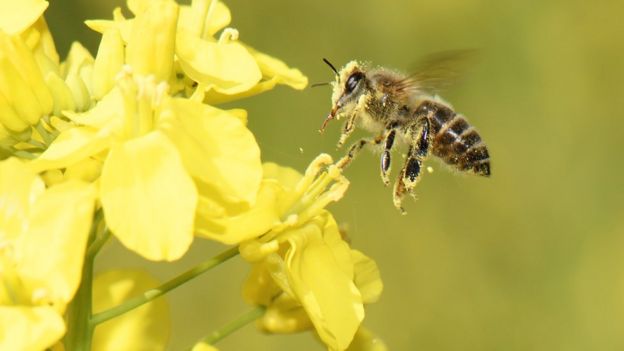 The use of neonicotinoids on oil seed rape has been banned since 2013

Some campaigners believe that the extended ban heralds a new era for EU farmers where the needs of the environment are seen as more important than production.

"It's a significant indication that we need a different form of farming across Europe that farms with nature and not against it," said Sandra Bell from Friends of the Earth. The ban on neonicotinoids could be a really important step towards a more general questioning of the use of pesticides and the harm they are doing to our environment."
EU member states support near-total neonicotinoids ban - BBC News
The problem is that the science is not clear:
Futures Forum: Bees and neonicotinoids > the latest research is ambiguous
The Genetic Literacy Project makes the point that, unlike chemicals that are sprayed on plant surfaces and remain on the plant, neonicotinoids are usually applied as a seed coating and are taken up throughout the plant—in the roots, stems, leaves, flowers, pollen and nectar:
Global consensus finds neonicotinoids not driving honeybee health problems—Why is Europe so determined to ban them?
Three different neonic pesticides—imidacloprid, clothianidin and thiamethoxam—are examined in separate reports;

Each neonic is assessed according to its effects on honey bees, bumblebees and wild solitary bees;

The separate impact of each chemical on each species is examined via eight different modes of bee exposure: seed-treated crops, weeds, field margins, adjacent crops, succeeding years' crops, guttation, surface water and puddles.

These modes of exposure are then assessed on 17 different crops, including vegetables, root crops and row crops such as corn, oilseed rape and sorghum, with further consideration given as to whether the crops were harvested before or after flowering and whether the neonics were applied by granules or via seed treatments.
It dictates that a pesticide can't cause more than a 7 percent mortality in honeybee hives. But natural variation in hive strength, due to weather, Varroa mites and other diseases and pests is often 15 or 20 percent or higher. Statistically, it is virtually impossible to show that pesticide exposure has resulted in no more than 7 percent bee mortality against background variation that is two to three times as large.

The BRGD insists that, in order to be considered valid, field experiments must demonstrate that 90 percent of the hive has been exposed to the neonic. The biggest problem with this is that there are generally no neonic residues detectable in crops by the time bees are foraging on them, and if there are residues, the amount is miniscule. The authors of the 2017 CEH study (cited by innumerable reporters as condemning neonics) noted that neonic "residues were detected infrequently and rarely exceeded [1.5 parts per billion]." (To put 1.5 parts per billion in context, the EPA has determined that levels below 25 parts per billion have no effect at all on bees.) At the same time, the bee-hive is a dynamic community and has a considerable capacity to detoxify itself from contaminants. So even the vanishingly small quantities brought into the hives by foragers might very well be wholly or partially eliminated before researchers could test for them. The BRGD thus presents those researchers with a Catch 22: In order to meet the 90th percent exposure requirement they would have to massively over-treat their crops with neonics, creating a foraging environment that simply would not occur in real life. But this defeats the entire purpose of a Tier III field trial, which is to recreate realistic, controlled conditions to see how bees are affected—or not—in the real world. The BRGD requirement has the effect of 'forcing' certain pesticides to fail or the studies that don't comply are invalidated.

Other BRGD-dictated constraints impose unrealistic and practically unachievable requirements for full-scale field studies. For instance, the spatial separation of experimental and control crop fields in full-scale field studies necessitates an agricultural area larger than Paris for the experiment—a condition almost impossible to satisfy in densely-populated Europe.
Global consensus finds neonicotinoids not driving honeybee health problems—Why is Europe so determined to ban them? | Genetic Literacy Project
With The Science Settled That Neonicotinoids Don't Cause Honeybee Problems, Why Does Europe Need To Ban Them? | Science 2.0
.
.
.